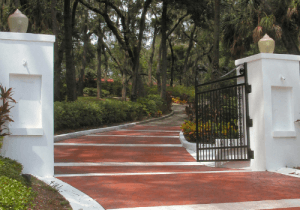 Installing driveway alarm systems on your driveway provides additional protection to your loved ones and your home. Knowing when somebody is approaching your home is essential in home security. The driveway alarm system gives you advance notification of wanted or unwanted company.
Driveway alarm systems are similar to automatic doorbells; it informs you of approaching guest. Driveway alarm systems work by sending a signal to its receiver whenever its infrared motion sensors or magnetic sensors or rubber air hose system (like the ones used by gas stations that detects vehicles driving over the hose) detect vehicles, people, or large animals are on your driveway.
Driveway alarm systems have two basic components: the driveway alarm transmitter and the driveway alarm receiver. The driveway alarm transmitter is placed on the driveway to detect vehicles, persons, or large animals on the driveway. If a presence is detected on the driveway, it will send a signal to the driveway receiver, thus alerting the house's occupants. Driveway alarm systems usually have microphones and speakers to communicate with the guest and the occupants. Or in a case like a burglary, driveway alarm systems trigger a deafening sound, usually a prerecorded message that prevents the burglar from doing any bad intentions to the house.
Driveway alarm systems are easy to install. The sensors of the driveway alarm system can be installed almost anywhere. It can be installed beneath the eaves of your house, or on the yard, or the surrounding area of your property hidden out of sight, or disguised as an intercom system on the gate of your driveway.
There are four types of driveway alarm systems. These are wireless driveway security systems, wired driveway security systems, driveway alarm systems with infrared motion sensors or "passive infrared," and driveway alarm systems with vehicle sensing probes that use magnetic detectors.
Each type of driveway alarm system has its own advantage and disadvantage. The wireless system is easy to install and inexpensive, but its batteries and transmitters have a limited range. Outside maintenance is not required in the wired system, but it is more expensive and difficult to install. The driveway alarm system uses infrared motion sensors and is very good at detecting cars and people; however, it also detects large animals and is usually set off by birds and other environmental occurrences. The driveway security alarm system uses a vehicle sensing probe or magnetic sensor and can only detect moving metals and not people walking.
Every driveway security alarm system has its own unique features. It is important to remember that homes that are not installed with security alarm systems are more prone to burglary. One way of prevention is by installing a security alarm system in your home.